Businesses are being Warned of Virtual Villains
May 12, 2022. Barbados Today, a major news outlet, published an interview where Ricardo Martinez, Chief Revenue Officer at DigitalEra Group, told Barbados Today that Cyber threats are not going anywhere, and companies need to put systems in place to protect their operations from such disruptions, which can often be detrimental.

He also warned that over the years, cyber crime has mushroomed into a growing multi-trillion dollar industry, and as more people work remotely and technology use expands, fraudsters are getting more creative in their methods.

Martinez, also said the size and location of a firm did not matter to cyber criminals when they are ready to carry out an attack.

"We can see today that threats are not reducing in any way. What has made a big impact on organizations as of late is the combination of bad actors looking to benefit from this. So it is not going to die down, there are too many incentives . . . and it is profitable," said Martinez.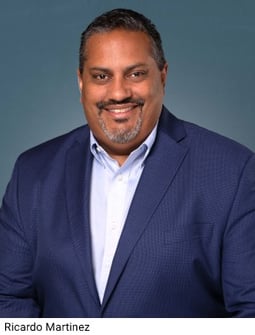 "What is also worrisome is that we have actors that have different motives. So it is not only about the money but also about making an impact," he said.

Martinez told Today's BUSINESS that hackers were not in the business of cherry picking who to attack and therefore, governments, individuals, and businesses could all be targets at some point.

What is more, he said that putting the right protective systems in place could mean the difference between a firm warding off an attack or being able to recover quickly and going out of business.

"So that is kind of where security becomes top of mind for many organizations because of the extreme impact it can have. So the recommendation is to make sure you are putting in place the right mitigating technologies, but get trusted advisors that can go into your environment and gauge where you stand from
a security perspective," he said.

"You want to be sure you are prepared because these events are not slowing down and every organization at some point is going to be impacted. The level of impact will be determined by the level of preparedness. So the more you are prepared the quicker you will respond and the less of an impact it will be to your organization," said Martinez.

The IT security professional was speaking with Today's BUSINESS on the heels of the DigitalEra Group-sponsored Secure Miami Cybersecurity Conference, which was held recently under the theme The Final Frontier: Skyrocketing into the New Age of Cybersecurity.

He explained that beefing up security did not have to be an expensive undertaking while adding that there were a number of solutions depending on the needs of the organization.

He further explained that a solid cybersecurity program must consist of "the right people, the right process, and the right kind of technology".

During the conference, Ricardo Villadiego, Founder and Chief Executive Officer of Lumu Technologies underscored the importance of companies taking decisive action by giving their IT specialists the right tools so they can carry out continuous monitoring.

In fact, Villadiego said it would help companies to carry out "continuous compromise assessment" as part of the solution to bridging any gaps in their cyber security network.

"It assists because it helps to intentionally look for compromises. We asked to do a compromised assessment after the fact when the data is already stolen . . . what if we change the mindset, what if
we assume compromise and continuously prove otherwise and avoid the catastrophe from occurring? That is the intention of continuous compromise assessment," he explained.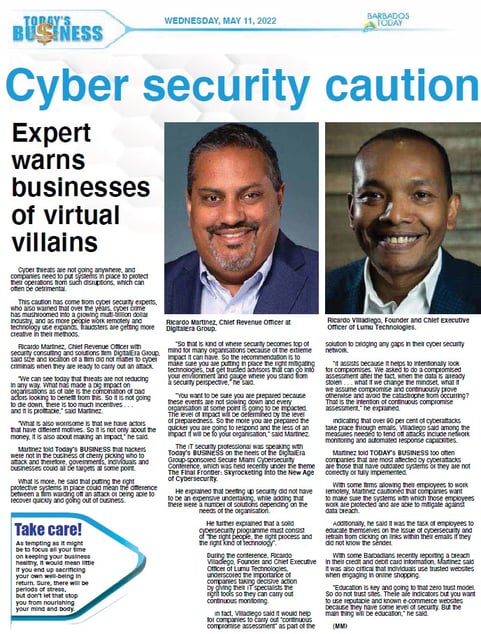 Indicating that over 90 percent of cyberattacks take place through emails, Villadiego said among the measures needed to fend off attacks include network monitoring and automated response capabilities.

Martinez told TODAY's BUSINESS too often companies that are most affected by cyberattacks are those that have outdated systems or they are not correctly or fully implemented.

With some firms allowing their employees to work remotely, Martinez cautioned that companies want to make sure the systems with which those employees work are protected and are able to mitigate against data breaches.

Additionally, he said it was the task of employees to educate themselves on the issue of cybersecurity and refrain from clicking on links within their emails if they did not know the sender.

With some Barbadians recently reporting a breach in their credit and debit card information, Martinez said it was also critical that individuals use trusted websites when engaging in online shopping.

"Education is key and going to that zero trust model. So do not trust sites. There are indicators but you want to use reputable and known e-commerce websites because they have some level of security. But the main thing will be education," he said.
Link to the original article published by Barbados Today: https://trinidadexpress.com/business/local/cyber-attacks-in-the-region-on-the-rise/article_f6421100-b54e-11ec-8814-031485c6edf8.html

About DigitalEra
DigitalEra is a leading solution provider of network and cybersecurity products and services, serving major business, education and governmental agencies throughout the US. In addition to access to the most sophisticated and effective security products, DigitalEra provides expert guidance on use as well as ongoing security counsel and insights that help their clients prevent security breaches and mitigate threats. For more information, visit:www.digitaleragroup.com.
Follow DigitalEra Group: Twitter, LinkedIn and Facebook.