Award recognizes Digitalera as a solution provider for CylancePROTECT®, the industry's first AI-driven pre-execution endpoint security product.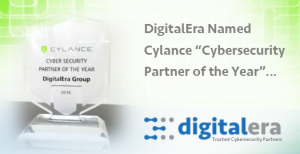 DigitalEra, a premier IT security technology provider in South Florida, announced today that it has received the coveted "Cybersecurity Partner of the Year" Award from Cylance Inc. The award, which covers North America, specifically recognizes DigitalEra for its security strength and prowess in the cybersecurity community. Cylance has recently gained recognition as the company that revolutionized traditional antivirus with AI-powered prevention that blocks both every day and today's most advanced cyberthreats.

"DigitalEra stands out as a prime example of an agent of change." said Didi Dayton, VP of Worldwide Channels for Cylance. "They're helping customers transform their security risk posture to defend against the constantly changing threat landscape with solutions that work to stop new threats like Ransomware, leveraging Cylance product and services offerings. We look forward to more great strides with Digitalera in preventing cyberattacks and cybercrime in the region."

Cylance's Artificial Intelligence-driven Technology Unlocks the Code.

Cylance's breakthrough product, CylancePROTECT, has been shown by third-party testing agencies to be dramatically more effective at preventing both advanced persistent threats and everyday malware from executing on network endpoints. At the heart of CylancePROTECT is a transformational detection and blocking system based on artificial intelligence, a radically different technological approach to cybersecurity. Cylance eliminates the need for traditional antivirus software, anti-exploit products, whitelisting solutions and host-based intrusion detection and prevention systems.

DigitalEra to Clients: Cylance a Groundbreaking Endpoint Solution.

"We are truly honored by this award", said Patrick Dyer, President and CEO of DigitalEra Group. "Cylance's solutions are groundbreaking in the global cybersecurity landscape. They've rapidly moved to the top of the Gartner Magic quadrant for Endpoint Protection platforms amidst some of the most highly recognizable security brands. We're thrilled to partner with Cylance in delivering this powerful solution to our clients, and pleased to be recognized for our partnership." DigitalEra is currently providing risk assessments and demo-tours on how CylancePROTECT works.

Cylance: The Stakes Have Never Been Higher.

Cybercrime is a serious threat to industry, government, education and healthcare institutions. Organizations all over the globe have been subject to an increasing number of cyberattacks at the endpoint, crippling operations and resulting in millions of dollars in destroyed networks, lost revenues, ransom, and worse. "Our mission at Cylance is to protect every endpoint on the planet," said Dayton. "Forward-thinking, trusted cybersecurity partners like DigitalEra and their robust network of clients and security are essential to meeting that goal."

About DigitalEra and Cylance:

DigitalEra is a leading solution provider of network and cybersecurity products and services, serving major business, education and governmental agencies throughout the US. In addition to access to the most sophisticated and effective security products, DigitalEra provides expert guidance on use as well as ongoing security counsel and insights that help their clients prevent security breaches and mitigate threats. For more information, visit: www.digitaleragroup.com

Cylance is the only company to offer a preventive cybersecurity solution that stops over 99.9% of advanced threats and malware at the most vulnerable point: the endpoint. Applying a revolutionary artificial intelligence approach, CylancePROTECT, analyzes the DNA of code prior to its execution to find and prevent threats others can't, while using a fraction of the system resources associated with anti-virus and detect and respond solutions deployed in enterprises today. For more information, visit: www.cylance.com.