Come meet with DigitalEra Cyber-Executives at the upcoming HSSE Cybersecurity Conference hosted by AMCHAM Trinidad & Tobago, Nov. 1-3
Join DigitalEra Group executives on November 1st-3rd, 2022 at the 26th Annual HSSE Cybersecurity Conference & Exhibition at the Hyatt Regency, Port of Spain, Trinidad, hosted by AMCHAM Trinidad & Tobago. This Premier event is a must-attend for all professionals, CEOs, executives, technicians, HR and HSSE Managers throughout the entire region. The conference promises to be an effective vehicle for information sharing, knowledge building, thought leadership, encouraging best practices, and elevating national awareness.
As Platinum Sponsors for the Cybersecurity track, DigitalEra will host several sessions and will be leading the cybersecurity agenda, packed with insightful information, the latest cybersecurity trends, and expert advice for companies to safeguard their organizations. Make sure to swing by our exhibition booth at the expo hall to connect with one of our experts about cybersecurity, and talk about how we can help you to manage and mitigate cyber risks and to build a resilient cybersecurity program. We'll have some exciting surprises and an awesome raffle going on within our booth, so we look forward to seeing you there.
Here's an overview of the conference's Cybersecurity 2022 track:
Cyber Security: One of the biggest threats to Business
80% of companies have suffered a cybersecurity breach over the past year. Nine percent (9%) of the companies experienced at least one cyber-attack per hour!
Organizations are increasingly vulnerable to cyber-attacks in this era of digital transformation.
Join our expert speakers to find out -:

How to build a best practice Cybersecurity framework

The Future of Cybersecurity Risk Management

How to effectively use your resources to achieve cyber resilience

The top 5 elements of an effective cybersecurity program

The anatomy of a ransomware attack

What is your risk scorecard?

Participating in a mini Cyber Risk Assessment

Understanding your risk scorecard?

Social Engineering attacks safeguard measures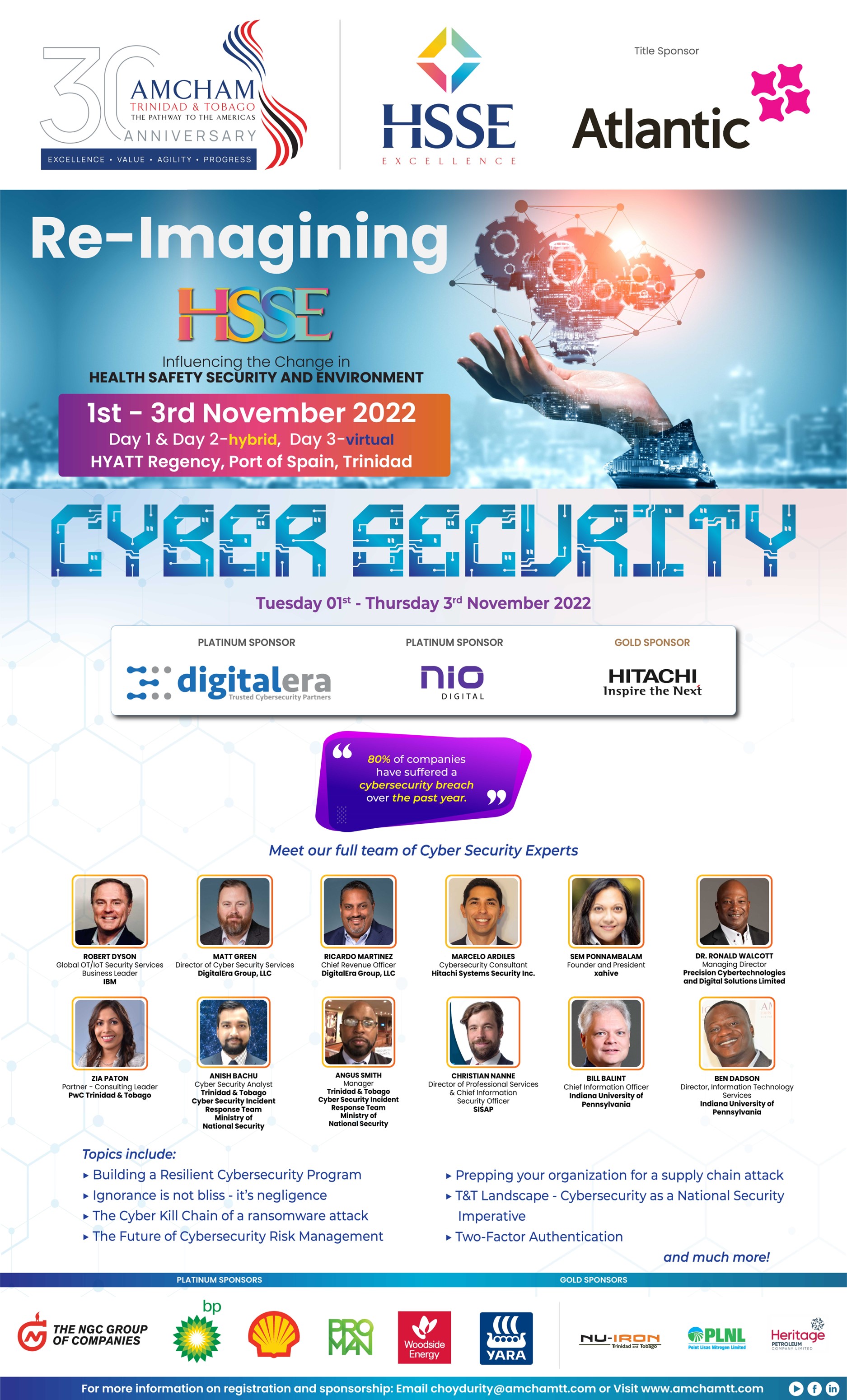 Click here to view the complete cybersecurity conference agenda.
We look forward to seeing you soon!

About DigitalEra
DigitalEra is your trusted security advisor that provides best-in-class solutions with Next Gen technologies and managed services to companies and Governments throughout the US, Latin America, and the Caribbean. Our deep technical knowledge, industry-leading certifications, and proven experience allow us to better understand our customers' needs and provide innovative solutions. We are passionate about protecting our customers. We offer peace of mind by safeguarding organizations from Cybersecurity risks and enable our customers to accelerate growth and focus on their operations. For more information, visit:www.digitaleragroup.com.