DigitalEra Named on South Florida Business Journal's 2021 Top Cloud Computing Companies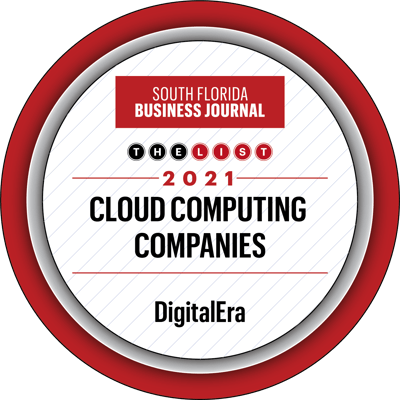 Miami, Florida, November 15, 2021 – The South Florida Business Journal has named DigitalEra as one of the Top Cloud Computing Companies.
The curated list published on October 29th by the SFBJ recognizes the top companies that focus on the latest in cloud computing capabilities.
"We're extremely proud to be named as one of South Florida Top Cloud Computing Companies. This is a true testament of the hard work our team has accomplished to contribute to South Florida's IT and Cloud Computing Ecosystem," said Patrick Dyer, President and Chief Executive Officer of DigitalEra.
This recent recognition in the cloud computing space comes just weeks after the company was recognized at the SFBJ's 2021 Technology Awards as one of the fastest-growing technology companies in the region. Other recent recognitions include being named as one of SFBJ's Top Private Companies in 2021, 2021 CRN Solution Provider 500, and 2021 CRN MSP 500, these last two by The Channel Company.

About DigitalEra
DigitalEra is a leading solution provider of network and cybersecurity products and services, serving major business, education and governmental agencies throughout the US. In addition to access to the most sophisticated and effective security products, DigitalEra provides expert guidance on use as well as ongoing security counsel and insights that help their clients prevent security breaches and mitigate threats. For more information, visit:www.digitaleragroup.com.